Saudi King Abdullah death: Lowered flags 'sickening'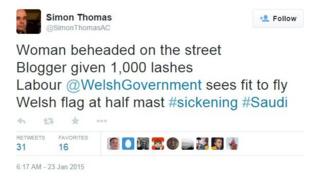 An AM has denounced as "sickening" a decision to lower flags on Welsh government buildings following the death of King Abdullah of Saudi Arabia.
Plaid Cymru's Simon Thomas said the move was inappropriate given the country's human rights record.
The death of Abdullah bin Abdulaziz was announced early on Friday morning.
The Welsh government said it would "normally extend this courtesy" to heads of state and royalty who had died.
The Mid and West Wales AM wrote on Twitter: "Woman beheaded on the street Blogger given 1,000 lashes Labour @WelshGovernment sees fit to fly Welsh flag at half mast #sickening #Saudi".
Scottish Tory leader Ruth Davidson has also described the decision to lower flags on government buildings as "a steaming pile of nonsense".
The UK government has asked for flags on government buildings to be lowered until 20:00 GMT on Friday, but the Welsh and Scottish governments are free to issue their own instructions.
A Welsh government spokesman said: "Flags are flying at half mast across the Welsh government estate.
"We would normally extend this courtesy to heads of state or members of royal households who have died."