Mansion tax plan to boost Wales NHS defended by Jones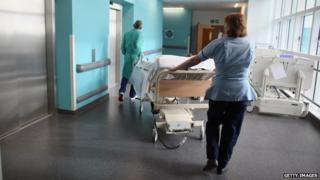 Labour's plan for a mansion tax to help fund the NHS in Wales has been defended by the first minister.
Carwyn Jones said it was "right" that rich homeowners should contribute more to society and help fund £120m training for 1,000 frontline health staff.
He accused Plaid Cymru of planning to hire 1,000 more doctors from "thin air", asking how they would be funded.
Plaid Cymru has also announced plans to unite health and social care to "save" the NHS.
Speaking at his monthly news conference in Cardiff, Mr Jones said Labour's proposed mansion tax would be "massively distributive" and would ensure a "deliverable and realistic" boost to the health service.
"We know many properties are not owned by UK residents and it's right they should pay more," he said.
Labour plans for the levy on properties worth more than £2m have been dismissed by Welsh Conservatives.
Political attacks
Meanwhile, Plaid Cymru has claimed it could "save" the NHS by hiring 1,000 more doctors, and by uniting health and social care.
MP Hywel Williams, the party's public services spokesman, said: "Our plans will increase capacity, bring down waiting times, and improve patients flow through hospital and beyond."
The policy launches come as a poll for BBC Wales suggests almost half of the people in Wales believe the Welsh NHS performs just as well as the health service in England, while another 15% think it performs better.
And a former Conservative health spokesman in the assembly has expressed unease about political attacks on the state of the NHS in Wales.
Jonathan Morgan told BBC Wales that criticism by the prime minister and other senior Tories had "gone a little too far".
"I think there is a risk of people working in the NHS becoming quite demoralised by the type of narrative, the type of debate," he said.