Welsh NHS still struggling with long-term care claims, says spending watchdog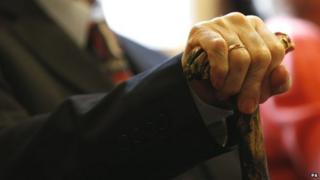 Some patients are being treated "unreasonably" by health boards dealing with claims for long-term NHS care, warns a watchdog.
The Wales Audit Office says good progress has been made addressing a pre-2010 backlog, but concerns remain over newer requests to meet care costs.
The NHS must fund "continuing healthcare", including measures like care home fees.
Welsh ministers said they accepted the report's recommendations.
Auditors raised concerns in 2013, and the Welsh government set up a scheme known as the Powys Project to clear the pre-2010 backlog.
More than £50m has been handed back to patients in the last decade - many of them elderly - to cover care they paid for, when it should have been free under the NHS.
In many cases, it related to the costs of paying care home bills that should have been met by the health service to cover genuine medical care cases.
Over 5,000 people in Wales qualify for continuing long-term care, both in care homes and for visits in their own homes.
'Strengthen role'
Auditor General Huw Vaughan Thomas said: "Today's follow-up report shows that there have been some good successes but that work remains to be done to ensure a step change in how some health boards deal with retrospective claims.
"The Welsh government needs to strengthen its role in managing Continuing NHS Healthcare to ensure that claims are dealt with as quickly and efficiently as possible."
Responding to the report, a Welsh government spokesman said: "We welcome these findings, which recognise the significant progress made since the WAO's first report in June 2013.
"We accept the recommendations and have already set the foundations for continued improvement in the system, including new training, stronger leadership and online resources for staff."