Opencast mines have 'blighted' lives when not restored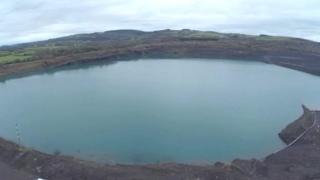 Residents near opencast sites not restored after mining have suffered due to poor legislation, an MP has said.
Bridgend Labour MP Madeleine Moon told the Commons that devolved governments had been given responsibility to clear up sites without funds to pay for it.
"People's lives have been blighted by ideologically-driven failures of government legislation," she said.
Business Minister Matthew Hancock said he would work with politicians of all parties to find a solution.
Ms Moon had requested a debate on the issue amid concern at opencast sites in south Wales which had not been restored by the operators once mining had ended.
She said: "If it's not the responsibilities of companies, it cannot be right that the responsibility for opencast coal sites - where responsibility was devolved to Scottish and Welsh governments - or even to the mineral planning authorities, without the finance being devolved. That is just not right."
'Loopholes'
Ms Moon said the UK Treasury and its agencies had benefited before and since privatisation of the coal industry in 1994.
"The funding must go with the responsibility," she said.
Plaid Cymru Carmarthen East and Dinefwr MP Jonathan Edwards called for a fund financed by the UK government and opencast operators to pay for restoration work that had not been completed due to "loopholes" in the law.
Business, Innovation and Skills Minister Matthew Hancock said he acknowledged the scale of the challenge and of the difficulties, but said the costs of restoration were taken into account when companies paid for the rights to mine sites following privatisation in 1994.
However, he added: "I look forward to working with members on all sides and from all parties to make sure that we can do that and that we can bring a resolution to this very difficult issue."