Safety work planned on 280 stretches of road in Wales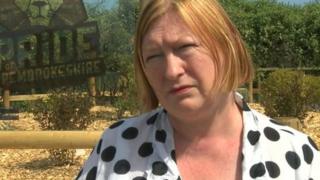 Nearly 300 stretches of road across Wales will have work carried out to improve safety, the Welsh government announced today.
Ministers have identified 280 locations where safety improvements are needed.
About £6m will be spent altering or introducing new speed limits on 140 sections of road across the country
These include lower 40mph and 50mph limits on the A40 between St Clears and Carmarthen, and new limits on the A55.
On the A44 near Aberystwyth - the site of a crash that killed four members of the same family last June - a series of improvements are also being planned.
Transport Minister Edwina Hart has already announced £500,000 funding to introduce part-time 20mph speed limits outside eight schools across Wales.
She said she was committed to improving safety on Wales' trunk roads and improving conditions for those who live on or near them.
An interactive map showing the findings of the survey and what work is planned for each section can be viewed on the Traffic Wales website .
It will be updated as the programme progresses.