Welsh schools the new election battleground for Tories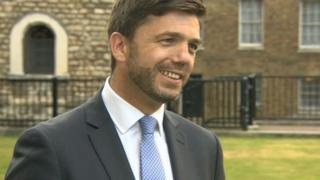 Come to Wales. It's a great place to host a NATO summit but you might die on a waiting list and the schools are an even bigger scandal.
I paraphrase the Conservative message but there's no doubt Welsh Secretary Stephen Crabb's attack on education in the country he represents around the cabinet table came as a surprise to many.
It was Mr Crabb, after all, who warned cabinet colleagues before Christmas to "mind their language" when talking about the NHS. He even let it be known that he had "banned" the prime minister from repeating his "Offa's Dyke" phrase, a phrase which makes many Welsh Conservatives wince.
The Preseli Pembrokeshire MP has always tried to get the "tone" right, achieving a balance between criticising Labour's record and recognising the hard work of those involved in public services. On education, another Conservative MP has previously warned privately of the dangers of being seen to "diss" the life chances of his constituents by criticising school performance
Now Mr Crabb says Wales's education performance is "a much bigger scandal" than its NHS, where, according to David Cameron, people die on waiting lists. Mr Crabb's previous comments on the NHS may have been more measured but the prime minister has spoken in much stronger terms.
The Sunday Times featured his comments prominently in its Welsh edition, but they appear aimed at voters in England, where the paper is read more widely rather than at his constituents whose children use local schools.
He told the paper: "If Ed Miliband brings into Downing Street and government in Westminster anything of the approach we have seen of Welsh Labour in Cardiff, parents in England have got good reason to feel very concerned."
This is the Conservatives' "education week" and Mr Crabb is delivering a speech on the subject tomorrow. Ministers often try to flag up interest in a speech by trailing it in advance, although the risk is that by trailing the most interesting comments in advance coverage of them can eclipse the speech itself as happened with his economic speech last month.
Having set the hare running in yesterday's paper, he was unavailable for Radio Wales's breakfast programme, Good Morning Wales, allowing his critics free rein to accuse the Conservatives of waging "war on Wales", a phrase Labour leader Ed Miliband has started to use.
A source close to Mr Crabb argues alternatively that they are part of the prime minister's "war on mediocrity" and that the secretary of state has got his language "pitch perfect". Mr Crabb believes it is "scandalous" that poor Welsh children under-perform those from a similar background in England. Labour Shadow Education Secretary Tristram Hunt has admitted Wales has "some difficult questions to answer" on education - but he says parts of England have too.
Has Mr Crabb got the balance - the language - right? The comments have certainly stirred up a debate. They also pose questions about how the UK government tries to promote Wales to outside investors when it thinks its public services are so bad.