Paul Murphy: an unusual 21st century politician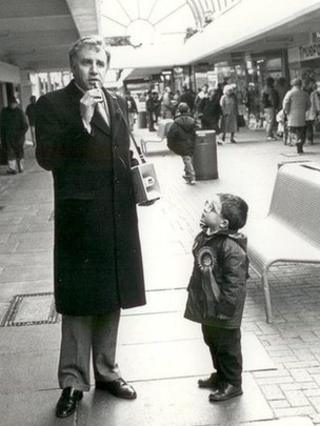 World Cup fever was sweeping London. Would Beckham's metatarsal recover in time? Could Sven end 36 years of hurt?
Not everyone was swept up in the fervour. "Why?" asked the secretary of state for Wales, "are people flying flags of St George from their cars?" An adviser explained patiently.
Paul Murphy, who has announced his retirement as an MP, was not like other politicians of his time, despite spending six years in a Tony Blair cabinet where a love of football was almost compulsory.
Sport generally is not his thing. He is said to have concealed history books inside match programmes when required to attend rugby games in his official roles.
He arrived at Westminster in 1987 alongside other new South Wales Labour MPs keen to make their mark. Mr Murphy appeared rather less overtly ambitious than some of his contemporaries. No-one ever called him a media tart.
While others continuously faxed press releases or telephoned newspaper offices while leafing through the Sunday papers in search of a story to comment on, he would restrict his media activity to the occasional press release. If you were lucky, it might have a contact number on it.
'Digital inclusion'
Away from the fanfare of publicity, he made his name as a middle-ranking Northern Ireland minister negotiating the Good Friday Agreement. Two cabinet jobs followed - Wales (twice) and Northern Ireland.
His political skill allowed him to move from opponent of devolution to "devo-realist" and to survive his declaration to a Labour conference that the devolution settlement was just that - "a settlement" rather than a process.
His return to the Wales Office under Gordon Brown was marked by prime ministerial concern that Labour's opponents would exploit any move to make the post full-time again after Peter Hain previously combined two roles.
In around half-a-dozen 'phone calls on the day of his appointment, Mr Brown gave Mr Murphy detailed instructions on his new job - and managed to find him another. He was to be, the prime minister said, "minister for digital inclusion".
It's fair to say Mr Murphy isn't at the cutting edge of the digital revolution - you won't find him on Twitter - but he took on the task with his customary unflappability.
Now 66, he's expected to join his friend from childhood in Abersychan Lord [Don] Touhig in the House of Lords and to complete his biography of his predecessor, Leo Abse.
Labour's national executive committee will decide within a week whether or not his successor will be chosen from an all-women shortlist and on the timetable for selection.
With local constituency party chair Nick Thomas-Symonds an obvious front-runner, Labour sources expect the NEC to reject an all-women shortlist here.