Former Welsh Secretaries debate EVEL plans for England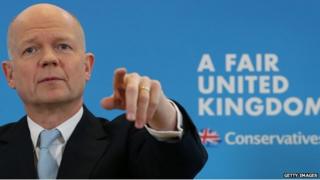 I had an e-mail from William Hague yesterday. Which was nice.
Did he want to congratulate me on my coverage of his impending move to Wales? To ask for advice on local hostelries?
Sadly not. There was a clue in the title of his email: "England".
"David," he wrote (he's known me nearly 20 years so I forgave the familiarity). "Imagine this scenario.
"The Scottish Parliament votes to reduce income tax in Scotland, but then Scottish MPs come to Westminster and vote to increase income tax in England.
"You don't have to think for long to realise how unfair that would be. That's why we are committed to bringing in English votes for English laws." [EVEL]
Mr Hague said that under the Conservative plans English MPs would have "an effective veto" over legislation that only affects England.
He used the income tax example as control of that is due to be passed to Holyrood. Unless Wales gets - and uses - similar powers then presumably the "effective veto" would belong to Welsh and English MPs.
This version of EVEL would apply only to areas that are devolved elsewhere. So a future Wales bill might apply only to Wales but as the constitution is reserved to Westminster, Welsh MPs would not get a veto.
English parliament
A Conservative source suggested that devolution bills affect relationships throughout the UK so a Wales bill wouldn't anyway be a Wales-only bill. Ultimately, it would be up to the House of Commons speaker to decide what's English and what's English and Welsh.
As with other constitutional compromises, this EVEL has left a lot of people dissatisfied, among them Mr Hague's predecessor as secretary of state for Wales.
John Redwood told The Daily Telegraph that the proposals could give the SNP enough leverage at Westminster to destabilise the Union. The Wokingham MP said: "If you had a lot of nationalist MPs, for example, who wanted something for Scotland then presumably they would all gang up and try to block an English proposal until we cave in on what they wanted".
Mr Redwood's preferred solution to the West Lothian or English Question is an English parliament sitting at Westminster. The arguments will continue if the Conservatives are in power after May 7 - although the chances are that William Hague will be able to watch them from the comfortable red benches in the House of Lords.