Council map for Wales to be redrawn by summer, minister says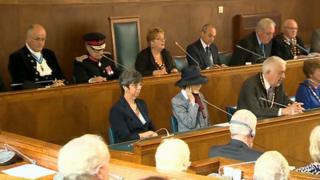 A new map of Welsh councils will be published before July, the public services minister has said.
Leighton Andrews told AMs he hoped to agree details with opposition parties before the assembly's summer break.
A white paper published on Tuesday calls for a cut from 22 to 12 councils, and radical plans to limit councillors to 25 years service.
Mr Andrews said he had spoken on the phone to leaders of six councils whose voluntary merger plans he rejected.
He was giving evidence on Thursday to a committee of AMs looking at his local government bill.
Rejecting voluntary mergers in January, Mr Andrews said the authorities had not put forward a "compelling vision" for their partnerships.
On publishing his white paper on Tuesday, the minister said the aim was "reform, not reorganisation" of local government.
Conwy council leader Ronnie Hughes told BBC Radio Wales on Thursday that the reforms showed a "lack of appreciation" for what councillors do, and that any limits to their length of service should also apply to AMs.