Tired drivers' free motorway parking plea by MP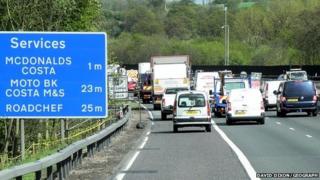 The law should be changed so tired drivers can spend more than two hours in motorway service stations without being charged, a Welsh MP has said.
Monmouth Conservative David Davies said the two-hour limit forces motorists back on the road to escape hefty fees.
He said he was hit by high charges when stopping for a break travelling between Westminster and his constituency.
Mr Davies and the Institute of Advance Motorists say the fees amount to "profiteering" by the firms involved.