Case for nine or fewer councils, says Andrews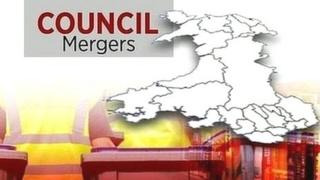 There is a case to bring the number of councils in Wales down to single figures, Public Services Minister Leighton Andrews has told BBC Wales.
He said he was exploring this scenario but the preferred option was still to cut 22 councils to between 10 and 12.
Mr Andrews said ministers could move away from that option, recommended by the Williams Commission, if they had the backing of another assembly party.
The minority Welsh Labour government needs opposition help to pass laws.
It has 30 out of the 60 seats in the Senedd.
Speaking on The Wales Report, Mr Andrews said: "We don't have a clear majority in the national assembly, and this will ultimately take legislation.
"So we will be publishing a draft bill in the autumn, which will be enacted after the 2016 [assembly] election," he said.
"At the present time we could not make progress without the support of another party. That may well be the case after 2016 as well.
"You can't rush these things, we don't want to go forward with a piece of legislation we couldn't deliver."
Last week, the minister published a white paper on local government, including plans to limit councillors to 25 years service and 10 years for leaders.
Asked if he would oppose similar time limits for assembly members, he said that he had no issues with term limits in politics.