Wales NHS needs help from London, says David Jones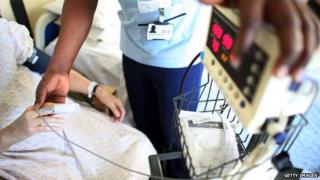 Health officials in England should be called on to help turn around the NHS in Wales, former Welsh Secretary David Jones has said.
He said there were question marks over Welsh Labour's running of health.
"Despite repeated assurances that they are working hard to improve things, things never do improve. They just get worse," he claimed.
The Welsh government said it was "absurd" for Mr Jones to claim the Welsh NHS was worse since devolution.
The Clwyd West MP gave the suspension of maternity services at Glan Clwyd Hospital as an example.
Mr Jones said it could prove the moment that Welsh people decide that "enough is enough".
He added: "Maybe, too, it will be the catalyst that causes the Welsh government finally to admit the severity of their problems with healthcare in Wales and to turn to the Department of Health in Westminster for help in turning things round.
"Please let them do that, as soon as possible."
A spokesman for Health Minister Mark Drakeford said it was "absurd" of Mr Jones to suggest that healthcare in Wales was worse than it was before devolution in 1999.
"By every important measure it is much better," the spokesman added.