Welsh MEP Kay Swinburne defends bankers' bonus speech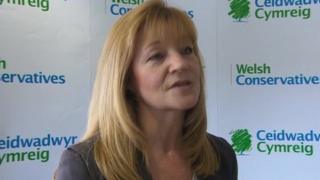 A Welsh Conservative Euro MP has defended comments about bankers being "more innovative" when it comes to dealing with caps on bonuses.
Kay Swinburne - who is a former corporate banker herself - was speaking in a conference in the City of London.
A spokeswoman says the MEP's comments were taken out of context, and she was highlighting issues of poor regulation.
The banking bonus cap restricts bonuses to 100% of bankers' pay or 200% with shareholder approval.
The Treasury has argued the cap will drive talent out of Europe and inflate basic pay, making it harder for banks to trim costs in lean years.
Speaking at the conference last month, the Tory MEP reaffirmed the Conservatives' stance against the EU-wide cap.
"I can tell you there is not a single constituent I have met that actually thinks we were right to have taken that to the courts," she said.
"They think it was right that there was a bonus cap.
"So I think it's up to everybody else to be a little more innovative as to how you get around it and I am hearing all sorts of schemes at the moment that do bypass the overall cap."
'Action on bonuses'
A spokeswoman for Ms Swinburne said she was not encouraging people to get around the cap, instead she was pinpointing issues with the regulations.
"Dr Swinburne was commenting that the EU's bonus cap was badly worded, which has enabled people to find ways around it.
"She made clear that her constituents believe it is wrong to pay large bonuses when they are not deserved.
"She has long argued that we need action to tackle bonuses in a holistic manner that encourages bankers to take a more long-term and sustainable approach to their decisions.
"That is why the Conservative government has capped bonuses in banks that were bailed out, and made sure that most bonuses are paid in shares so that bankers have a stake in making decisions that are in the long-term interests of investors.
"Bankers bonuses are now a fifth of what they were under Labour."
Responding to the comments, shadow Welsh secretary and Pontypridd Labour MP Owen Smith said: "These remarks betray the Tories' true colours.
"While families in Wales are struggling with the cost-of-living and wages here have plummeted by £2,200 under the Tories - they are trying to help bankers squeeze a few more million from their bonuses."