Elitism claims over Welsh speakers, says MP Alun Cairns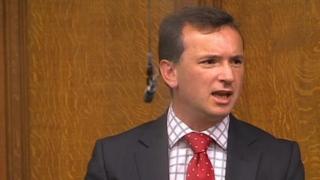 Fluent Welsh speakers need to be more "tolerant and supportive" towards those learning the language, a UK government minister will say.
In a speech in Cardiff on Wednesday night, Wales Office Minister Alun Cairns will say there are perceptions of elitism attached to the language.
He will also argue against using further legislation aimed at increasing the use of Welsh.
The Welsh government said people should be encouraged to use Welsh every day.
The Conservative MP for Vale of Glamorgan is expected to say: "I issue a further challenge to everyone to do more to embrace and encourage Welsh learners and to be tolerant and supportive, especially of those from traditionally non-Welsh speaking communities.
"Sadly, there are far too many Welsh speakers, particularly a younger generation who have studied Welsh to the age of 16 at school, who still don't see themselves as Welsh speakers, or do not have the confidence to use the language beyond the classroom or the school yard."
'Take root'
The 2011 Census found 19% of people in Wales speak Welsh fluently.
"No government can simply legislate life into a language," Mr Cairns will say.
"I do not want to see a regime of regulating the language that neglects efforts to promote its usage.
"Our aim must be to encourage the language organically, particularly at a grassroots level, and for it to take root as a thriving, living, community language. The disappointing 2011 census figures confirm the scale of this challenge".
A Welsh government spokesperson said legislation was a key driver to consolidate the position of the language, and new standards would help place it higher up the agenda within government, local authorities and other public bodies.