Miners and gay activists reunite for strike anniversary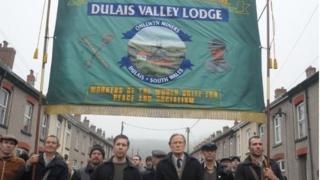 A Welsh miners' support group is to reunite with gay rights campaigners who formed an alliance with pit workers during the 1984-85 miners' strike.
The revived Neath, Dulais and Swansea Valley Miners' Support Group will get back together with the Lesbian and Gays Support the Miners group.
Their activities inspired last year's Bafta award-winning film Pride.
The re-union, at Onllwyn Miners' Welfare Hall on 14 March, marks the 30th anniversary of the dispute's end.
Swansea East Labour MP Sian James, who said joining the miners' support group as a young mother sparked off her political career, will be secretary of the revived organisation.
"The evening will be an opportunity to bring together those who supported us during the strike of 1984/1985 and celebrate the solidarity and achievements of the support group during this period of our local history," she said.
Ms James - who is stepping down from Parliament in May - told BBC Radio Wales' Sunday Supplement programme she and fellow retiring Labour MP Hywel Francis wanted to revive the group to share their experience of "grassroots political activism".