'Pretty strong case' for more AMs, says Welsh Tory leader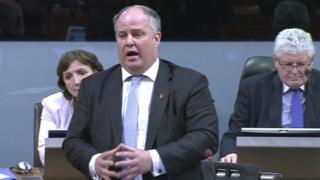 There is a "pretty strong case" for increasing the number of AMs, the Welsh Conservative leader has said.
Despite a lack of "public appetite", Andrew RT Davies said the growth in responsibilities strengthened the argument for a larger assembly.
It seems to signal a change in his stance after he previously said the public want "better", not more AMs.
Control over the assembly's size was included in a new devolution offer from David Cameron and Nick Clegg.
'Reasonable argument'
Mr Davies said any change "should not be at an additional cost to the taxpayer" but rather look at "how many politicians we need to govern Wales" at council, assembly and Westminster levels.
Speaking to reporters at the assembly on Tuesday, he said: "The growth in responsibilities in this institution from where we were in 1999 to where we are today, there is a reasonable argument to say that those who support an increase in AMs can make a pretty strong case that actually we do need more AMs."