No more Welsh devolution without income tax powers, says Tory MP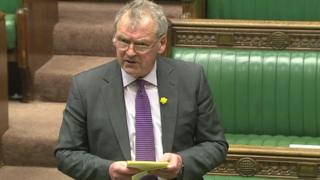 There should be no more devolution to Wales until the Welsh government gets responsibility for setting income tax rates, a Welsh Tory MP has said.
Glyn Davies accused Welsh ministers of "preferring comfortable impotence" to facing up to tough decisions.
Mr Davies, MP for Montgomeryshire, was opening the annual House of Commons debate on Welsh affairs.
He said he wanted the law changed to remove the need for a referendum before Welsh ministers gain income tax powers.
"I do not believe we should devolve one iota more power to the Welsh government until income tax powers are devolved," he said.
He also questioned how the national assembly could call itself a parliament when it was little more than a spending body.
"The Welsh government just wants to carry on claiming credit for those things the voters like and blaming Westminster for those things the voters don't like, avoiding any tough decisions preferring comfortable impotence to facing up to the tough decisions governments have to take.
"And how can it be thought right to refer to a Welsh assembly as a Welsh parliament - which all of us want to do - while clinging to a position where in reality it is not a great deal more than a spending body," he added.