Pay body insists assembly members will get £10,000 wage rise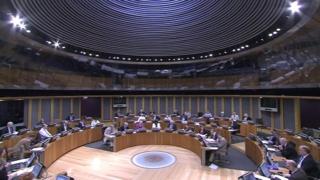 The body that sets assembly members' pay is sticking to its plan to increase their basic salaries by £10,000.
It would mean a backbenchers' pay rises from £54,000 to £64,000 after next year's assembly election - up 18.5%
The proposal was criticised by politicians and unions when it was first outlined in November last year.
But the chairman of the assembly's independent Remuneration Board said there had been a big increase in AMs' responsibilities with more devolution.
'Disappointed'
The board has the final say on pay and expenses - its decisions do not need to be ratified by the assembly.
The board invited responses to its latest draft decision, published on Friday, with a final decision due in April.
Board chairman Sandy Blair said: "Our package is an investment in Welsh democracy - in the capacity and quality of the assembly so that it is fit for purpose as more powers are devolved."
He said he was disappointed that "only 65 people bothered to respond" to the first consultation.