Political parties 'doing terrible jobs' - Michael Sheen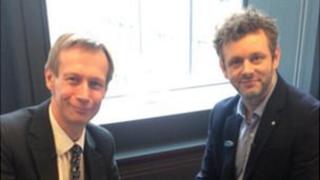 Michael Sheen has just returned from Guatemala, a country with the second highest murder rate for children.
"It's one of the most dangerous places for a child to grow up," the actor and UNICEF UK ambassador tells me. "It was an intense trip, there's an overwhelming amount of violence and abuse, exploitation of children, there's a huge trafficking problem."
Despite that background, he says work sponsored by UNICEF is making a massive difference, offering psychological and legal support for victims of abuse.
Tomorrow he will lobby MPs as part of the campaign to end violence against children: "What we're asking politicians to do, across all parties, is to come together and say they want to make this an absolute priority for the world because we're not just talking about this generation's children, we're talking about generations to come."
We met a week after his speech on the NHS in Tredegar went viral on the internet - to his surprise.
"It was a cold and very wet day. The fact that anyone turned up at all was amazing and that they stayed around was amazing. I think probably because I was so cold and so wet I gave it a little bit of extra oomph maybe but you know I was inspired by the fact it was in Tredegar, the home of Nye Bevan, the man who was the architect of the National Health Service, right at the heart of the welfare state and I think it represents something."
'Under No Illusions'
He may have quoted Nye Bevan, but Bevan's party runs the NHS in Tredegar.
"That's right," he said. "I'm not affiliated to any political party. I think they're all doing terrible jobs on the whole. I think there is a massive inequality in our society and I don't really see anyone really doing anything about it substantially."
Despite his criticism of political parties, and his own political awareness, he shows no interest in swapping Hollywood for Cardiff Bay or Westminster.
"The way the system works at the moment is something that you can be eaten up by. I'm under no illusions, the way politicians work, they're having to deal with all kinds of bureaucracy and all kinds of difficulties it's not something that I relish getting involved in but nevertheless I'm going to say what I feel about what I see whenever I get the chance."