Backbones and prudence; fiscal envelopes and cuts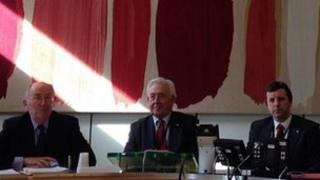 There's a new trend in this election campaign. Political parties have started offering more detailed analysis of their opponents' spending plans than their own.
Yesterday, shadow Chancellor Ed Balls highlighted "extreme" spending cuts he said the Conservatives would introduce while choosing not to go into detail on Labour's own plans to cut the deficit.
Today, at their pre-Budget briefing, Plaid Cymru gave us their analysis of Labour's spending plans. Plaid said their analysis is based on an Institute for Fiscal Studies' forecast that spending on the devolved administrations in Wales, Scotland and Northern Ireland would be cut by 2.2% under Labour between the general election and the next one in 2020 (the figures for the Conservatives are 5.8% and the Liberal Democrats 1.7%).
Plaid estimate that (under Labour) would cost the Welsh government £330m in 2019-20 and £825m (in real terms) over the course of the parliament.
Labour's response came from Shadow Welsh Secretary Owen Smith: "If Plaid want to be taken seriously as a party of government in Wales, they should tell the Welsh people how they intend to fund the independent Welsh state they want to create, instead of simply attacking Labour. However, if they are going to talk about Labour plans, they should at least get their sums right.
"In Labour, we believe in sharing wealth and resources across the whole of the UK, so we will set a funding floor for Wales that will deliver fair funding. And in addition to that pledge, we will also introduce increased taxes on the banks, on mansions and millionaires that will deliver over £300m to Carwyn Jones' Welsh Labour Government."
At their briefing, Plaid seemed determined to kill off any impression of them as reckless spenders, insisting that they "acknowledged the need to reduce the deficit". Election co-ordinator Lord Wigley used the word "prudent" more often than in a Gordon Brown Budget.
Plaid said they would "modestly" increase spending by 0.5% from next year, paid for partly by lifting the lid on employee national insurance contributions to £100,000 a year and restricting tax relief on pension contributions to 20%.
Plaid's central election argument remains funding parity with Scotland. Their economic adviser Eurfyl ap Gwilym argues this would mean an increase in the Welsh government's budget of £1.2bn a year.
"If Wales showed more backbone we'd get a better deal", he said. "If Wales had more Plaid Cymru MPs we would get a better deal."