Valley lines upgrade 'dithering' claim by Lib Dems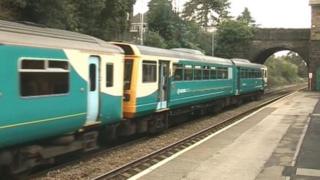 The Liberal Democrats have accused the Welsh government of "dithering" over the electrification of railway lines in the south Wales valleys.
AM Eluned Parrott said Network Rail told her it had not yet been asked by ministers to start the work.
She said the delay was "astonishing" given the "fanfare" that greeted a deal on funding announced in November.
The Welsh government said it was checking project arrangements after taking it over from the UK government.
'Due diligence'
The UK government will fund the upgrade of the Swansea-London mainline by 2018, and will pay almost half an estimated £500m to electrify the Valley lines.
The Welsh government expects to meet its share from cost savings and increased revenue.
Ms Parrott said: "While there has been much aspirational talk in recent months about the South Wales Metro and the potential for new electric trains, these things simply aren't possible unless the infrastructure work gets moving.
"After all, you can't run an electric train if you haven't electrified the track."
A Welsh government spokesperson said it had been carrying out "extensive due diligence work" on the project.
"It would be remiss of us to take on a project from the Department for Transport and simply deliver it without checking the contractual status, pricing position and how it fits with our new powers post 2017," the spokesperson added.