Numbers waiting too long for hospital treatment rises again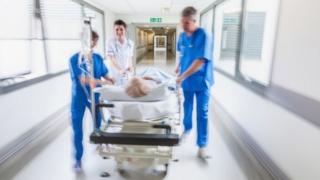 The number of patients in Wales waiting longer than they should for hospital treatment has risen above 23,500, up by nearly 11% in January.
January's referral to treatment statistics show 23,521 patients were not seen within nine months, the NHS target time for all treatment.
December's figure was 21,226.
The Welsh government said that more than 94% of people waited less than nine months, at a time when demand for care was increasing.
The figures were published a day after plans to form a cross-party commission on the future of the Welsh NHS were dropped, following Plaid Cymru's decision not to take part.
The Conservatives had already ruled out any involvement.
Welsh Liberal Democrat leader Kirsty Williams urged politicians to "put aside their differences and start working together to try to find the solutions for our NHS".
The number of patients missing the eight week target for diagnostic services such as MRI scans and ultrasounds also rose by nearly 850 to just under 20,950, up just over four per cent.
It means more than 29% of patients missed that target.
Investment
Responding to those figures, Welsh ministers said that, despite demand rising "seven out of 10 people were waiting less than the target time for diagnostic services, with the number of people waiting more than eight weeks falling by around 7,000 since January 2014".
A spokeswoman added that a total of £15m had been made available for improving the services.