More to Welsh language promotion than cash, says Jones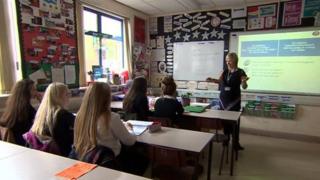 Spending more money on promoting the Welsh language does not automatically lead to more people speaking it, First Minister Carwyn Jones has said.
He was challenged by a Conservative AM about a cut in direct Welsh government spending on the language.
Mr Jones said it overlooked other government activity that helped the language, such as education.
However, he admitted there were questions over the success of Welsh lessons in English-medium schools.
The first minister was appearing before a committee that scrutinises his work, including his role as minister responsible for the Welsh language.
'Complexity'
Conservative AM Paul Davies said direct spending on Welsh language promotion had fallen by £700,000 this year and would be cut by more than £850,000 next year.
Mr Jones said: "We know there's been a big increase in the money that's spent on the Welsh language over the last decade, but without seeing the results we would want."
He added: "I don't think it's true to say that if you spend more money, then you will see an increase in an automatic way. There's more complexity than that in ensuring people speak Welsh and use Welsh."
Earlier, Mr Jones told the committee compulsory Welsh lessons in English-medium schools had failed to create confident Welsh speakers.
"That doesn't mean it should cease to be a compulsory subject," he said.
He was responding to a highly critical review by Prof Sioned Davies of Cardiff University that warned it was the "eleventh hour" for teaching Welsh as a second language.
Mr Jones told AMs it was not clear whether there were enough teachers who could teach Welsh when the policy was introduced.