'Isil not active in Cardiff' says Welsh secretary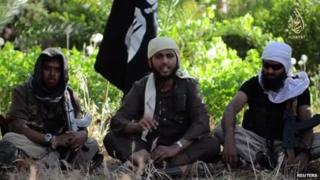 Claims that Islamic State groups have been active in Cardiff have been strongly denied by the Welsh secretary.
Stephen Crabb clashed with Swansea West MP Geraint Davies who told the Welsh Affairs Committee that the existence of the groups showed the need not to cut police funding.
Mr Crabb said there had been "localised incidents" and the city should not be tarnished because of that.
Mr Davies conceded there had been "individual cases" involved.
The Tory MP said: "We need to be careful of the language we use about the issues of extremism and Islamic radicalisation in Cardiff because there is a danger, fuelled by elements of the UK media, to paint Cardiff with a negative brush."
Mr Davies said initial police cuts had reduced spending by 26% and further cuts would take another 20% off the budget.
He said president of the Association of Chief Police Officers Sir Hugh Orde had suggested a tipping point had been reached in terms of police cuts, "in particular in relation to possible so called disorganised terrorism".
Mr Davies asked Mr Crabb: "Given that we have had Isil groups for instance identified, in particular in Cardiff and elsewhere, do you think there is a particular risk in this, and do you think overall that halving the police service in Wales is comfort for the Welsh nation?"
But the Tory MP replied: "We don't have Isil groups in Cardiff, there have been localised incidents of people with links to Cardiff having travelled out to be part of Isis but we must be careful not to tarnish Cardiff with a reputation as having a problem with Islamic extremism in any way."
Last year brothers Nasser and Aseel Muthana joined a jihadist group in Syria with Reyaad Khan. They are all from Cardiff.