Crabb: Wales not under-funded but subsidised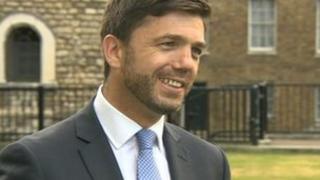 In a world where most political parties think Wales is under-funded, it's a question mainstream politicians tend to shy away from.
Is Wales subsidised by England?
Welsh Secretary Stephen Crabb is one of the UK government's more diplomatic performers but giving evidence to MPs this afternoon he was more direct than you might expect.
"I don't accept the premise that Wales is under-funded. Even on Gerry Holtham's terms Wales receives a substantial subsidy above equivalent funding for England."
That set the cat among the Cardiff Bay pigeons. "Is he serious?" asked Welsh Labour Minister Vaughan Gething.
Yes, he is. Mr Crabb added: "Let's be absolutely clear and blunt about what we're talking about, we're talking about subsidy for Wales. Gerry Holtham talked about a subsidy for Wales over and above equivalent funding in England of between four and 17%.
"And at this precise moment in time that is the kind of level of subsidy that Wales has from the way the Barnett formula operates so a funding floor is about how you protect that level of subsidy for Wales."
Plaid Cymru MP Jonathan Edwards criticised his use of the S-word and said the people of Wales pay more in tax than the Welsh government spends. (That may be true, although it ignores UK government spending in areas such as pensions).
MPs on the Welsh affairs committee also found time to grill him on the decision to block a request by producers of the latest Bond movie to film in the Senedd building.
Mr Crabb reverted (slightly) to diplomatic mode: "I don't know the details of the decision and it is easy to criticise from afar but it does look on the face of it quite bizarre that possibly the best-known film character that the global film industry has produced and had the opportunity of being filmed at the heart of Cardiff Bay and the Senedd and that opportunity seems to have been lost.
"It's a question, a case of Dr No perhaps from the presiding officer on that one."