Budget 2015: We want more bridge toll cuts, says Jones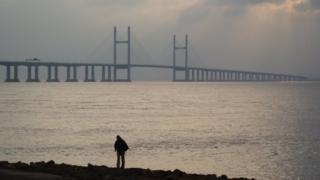 Bigger cuts to Severn Bridge tolls than those announced in the Budget would be sought if control of them was devolved, First Minister Carwyn Jones has said.
On Wednesday, the chancellor said tolls for cars and vans will be cut to £5.40 in 2018 - the current charge is £6.50 for cars and £13.10 for vans.
Mr Jones wants control of the bridges devolved but he said scrapping the tolls would be "difficult".
More financial information is needed to decide the right toll levels, he added.
"We want to control the tolls ourselves because, of course, it's more or less a tax to come into Wales," the first minister told BBC Wales.
"We would then look to bring them down again.
"The first thing we would have to find out is - and Whitehall themselves don't know this properly - is how much it would cost to maintain the bridges and how much profit is made at the moment," he added.
'Kick in the teeth'
Keith Palmer from the South Wales Chamber of Commerce welcomed Chancellor George Osborne's move, saying the tolls had "long been a stumbling block for the Welsh economy".
But Freight Transport Association spokesman Ian Gallagher complained the size of the reduction for lorries compared to vans made the announcement a "kick in the teeth" for its members.
Heavy goods vehicles and buses currently pay £19.60 and this will drop to £16.30 in 2018.