Tolls, city deals and austerity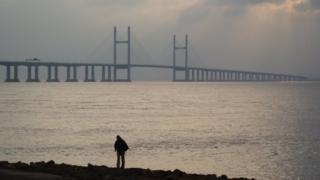 We knew that VAT on the Severn crossing tolls was going to be scrapped when they return to public ownership in 2018 but this goes further.
The reduction for cars in 2018 from £6.50 to £5.40 is the result of that VAT cut but the big step is to bring the cost for vans, now at £13.10, down to the same level as cars.
This crowd pleaser for white van man and woman in south east Wales, and the south-west of England, together with the other reductions will be the first cuts to the Severn bridge tolls.
What we don't know for sure is whether this is it as far as the Conservatives are concerned, or whether there will be more in their manifesto.
Privately the Liberal Democrats say their policy to scrap the tolls forced the issue but that's denied by the Conservatives who claim it's a sign of their commitment to small business owners.
Anywhere but Cardiff
The starting point for the decision on the van tolls was to consider someone like a plumber on a £50 call out from Chepstow to Bristol and whether he or she would consider it when faced with a £13.10 charge?
The answer is probably no, but that could now change.
The interesting point is whether this, and the Lib Dems' policy, means the starting gun on the Severn tolls being a live political issue has been fired up as we head into the general election?
Talks on a Cardiff city deal could also be significant and marks a reversal of what's been described to me as the ABC policy on public investment in Wales, which stands for 'anywhere but Cardiff'.
In theory it means a big boost for the city with another source of direct funding for infrastructure projects, and politically it will give more authority and power to the council outside of the influence of the Welsh government.
No doubt that will bring a smile to many former big beasts of the council world who have always struggled with the concept of devolution.
Scorn
The big picture, of course, is all about the claims of bringing the public finances under control.
The question is what impact all of this will have out on the doorstep in the general election campaign?
I asked two Welsh Conservative candidates earlier about what they felt would help them and they both pointed to the relaxation of the rules around annuities as massive for pensioners, who are more likely to vote than their younger constituents.
Labour have poured scorn on the budget pointing to the failure to clear the deficit, and the emergence of low wages and zero hours contracts as central features of the British economy.