A Budget deal for White Van Man: how did that happen?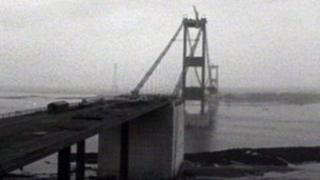 It wasn't in the St David's Day agreement but there has been a cross-party consensus in favour of the Welsh government getting control of the Severn bridges.
It used to be Welsh Conservative policy to devolve the bridges to Cardiff, even if the original is wholly in England (it's the Wye bridge that crosses the border). Plaid Cymru and First Minister Carwyn Jones agree.
Mr Jones has again suggested tolls would be lower if the bridges were run by his government. Perhaps he's expecting devolution of the crossings in next month's Labour election manifesto?
Probably not. Labour leader Ed Miliband told BBC Wales on a visit to Cardiff: "We"ll look at that issue.
"I think it's right that when the bridge comes back into public ownership, I think in 2018, we look at that issue of where control lies and we're very, very happy to look at those questions because I think Carwyn's making an important case on that."
Welsh Secretary Stephen Crabb gave an insight into his thinking on the bridges' future (and tolls) in evidence to MPs on the Welsh affairs committee last year: "I do not share the aspiration of our Liberal Democrat friends who want to see no tolls at all on the bridge. With a major piece of infrastructure like that, you have to pay for the infrastructure, the maintenance and the upkeep."
He added: "When I look at the structure of tolls at the moment, the one that really stands out for me as offensive is the middle band for the light vans. When I am stacked up in the queues at the Severn bridge and I look around out of the car, I really feel for those guys in small white vans who are paying almost £13 every single time they cross the bridge.
"If they are going across to clean windows or do some carpentry in Bristol, if they live in Newport, that is a major cost on them; so, yes, I would like to see a restructuring of tolls in the longer term."
It was an argument Mr Crabb took to the Treasury in the run-up to the Budget - and the result was yesterday's announcement by the chancellor of a halving of the toll for vans (although not HGVs).
It helped that it allowed George Osborne to make a joke at Labour deputy leader Harriet Harman's expense: "It's a boost for the drivers of white vans. And let me reassure the deputy leader of the Labour party it will apply to pink vans too."
The joke went down well in the Commons, although today's Telegraph suggests that Mr Osborne's humour doesn't come cheap.