Meningitis B vaccine decision 'as soon as practicable'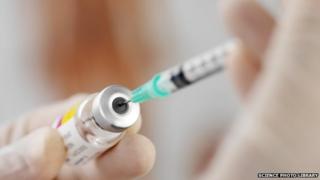 A decision on introducing a vaccine that protects against a deadly form of meningitis will be made as soon as practicable, the Welsh government said.
It is waiting for the outcome of the talks between the UK government and manufacturers GSK.
A year ago, expert advisers for the UK government recommended the meningitis B vaccine be given to babies from two months old across the UK on the NHS.
But a cost-effective price has not yet been agreed with GSK.
"Negotiations with the manufacturer are being undertaken by the Department of Health in England on behalf of the UK as a whole and these discussions are ongoing," a Welsh government spokesperson said.
"A decision on whether to make the meningococcal B vaccine available in Wales will be made as soon as practicable, once these negotiations are complete."
The Department of Health said it wanted to see the vaccine introduced as soon as possible.
Meanwhile, meningitis charities are calling for urgent action from the prime minister and the health secretary to conclude negotiations and introduce the vaccine.
---
What is meningitis?
•Meningitis is an infection of the meninges - the membrane that surrounds the brain and spinal cord
•Meningococcal bacteria are common and carried harmlessly in the nose or throat by about one in 10 people
•They are passed on through close contact
•Anyone can get meningitis but babies and young children are most vulnerable
•Symptoms include a high fever with cold hands and feet, agitation, confusion, vomiting and headaches.
---