Leaders in Welsh debate should expect a tough night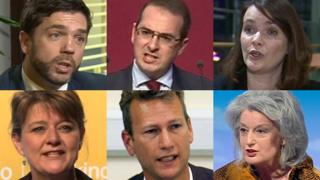 It could be a tough night for all of the politicians taking part in tonight's first televised debate between the Welsh leaders of the main parties.
Owen Smith for Labour will inevitably have to defend the record of Carwyn Jones's devolved government, even though he is not a member of it.
It's territory he's happy to enter and very much in keeping with a theme of this campaign, where devolved and non-devolved issues have become intertwined.
Stephen Crabb for the Conservatives will come under fire for his government's record on public sector cuts, particularly as Wales has so many communities with a high dependency on welfare.
I suspect his focus will be on pushing the economic performance in Wales after last week's encouraging unemployment figures.
The opportunity that Plaid's Leanne Wood has had to portray herself as the voice of Wales in the UK leaders' debates has caused frustration among her opponents, who point out that she leads a party that is currently fourth in the polls in Wales.
Expect her to face some difficult questions, although she will go in with plenty of confidence.
Fighting for survival
Kirsty Williams for the Liberal Democrats is fighting for her party's parliamentary survival in Wales.
I would expect her to go on the offensive when she's asked to defend her role in the coalition government, when clearly some of the policies have been unpalatable for grassroots members from within her own party.
Those with the most to gain are UKIP and the Greens.
But the first past the post system is stacked against Nathan Gill and Pippa Bartolotti, so they really have to make a huge impression to ensure their parties are anywhere near picking up a Welsh seat.
Overall the television debates have been far more engaging than many expected.
The large numbers of participants has not held up the proceedings, and there have been some dramatic moments between those taking part.
Let's hope tonight's debate at the College of Music and Drama on ITV Wales at 8pm follows in the same vein.