Tributes are paid to campaigning south Wales councillor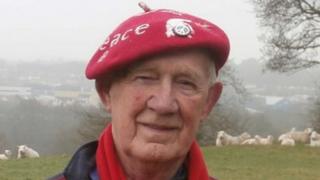 Tributes have been paid to one of south Wales' most high profile councillors, Ray Davies, who has died aged 85.
A Caerphilly Labour councillor, he campaigned on issues including nuclear disarmament, Palestine and the Iraq war, and was a proud socialist.
Local Labour MP Wayne David said he was "enormously saddened" by the loss of someone he admired as a socialist and a "superb local campaigner".
The MP said Mr Davies was election campaigning with him two weeks ago.
In an article for the BBC news website in 2014, Mr Davies argued for a Yes vote in the Scottish independence referendum, saying he "passionately" believed in "people's right to take control of their own lives".