First Minister 'determined' over north Wales health service improvements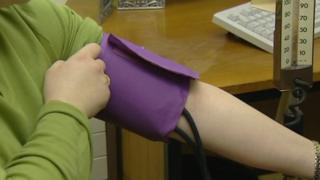 Carwyn Jones has said he is determined to see improvements to the health service in some parts of north Wales.
It follows concerns about the GP out-of hours-service there with claims it is understaffed and has a number of management issues.
The first minister was speaking in a special debate for The Wales Report involving five Welsh party leaders.
The Welsh Conservatives leader attacked the Welsh government's NHS record.
Andrew RT Davies said: "In the Assembly we had an urgent question on out-of- ours provision in north Wales. The report we discussed highlighted that the out-of-hours service is virtually on collapse in north Wales."
'GP crisis'
Mr Jones, the Welsh Labour leader said some parts of the public services in Wales needed improvement.
"We've seen it recently in some parts of north Wales", he said. "That's got to change and improve and I'm determined to make sure that it does improve."
Speaking on the BBC's Good Morning Wales, Mr Jones added health was not the main issue people talked about on the doorstep.
"They did in some parts of Wales, more so in some parts of Wales than others - the Vale of Clwyd being one such area, but most people were focused on the cost of living," he said.
"Most people were focused on Westminster issues for this election, rather than devolved assembly issues."
During Wednesday's TV debate, UKIP Wales leader Nathan Gill said some people still questioned devolution because of the Welsh government's performance while Welsh Liberal Democrat leader Kirsty Williams said concerns over the health service made some people question whether more powers should come to Wales.
Plaid Cymru leader Leanne Wood said there was a "GP crisis" and her party had plans to recruit 1,000 new doctors.