UKIP's Nathan Gill 'totally supports' Nigel Farage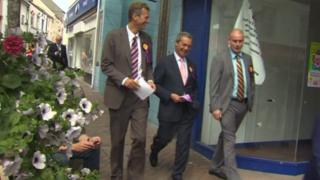 UKIP Wales leader Nathan Gill has said he "totally supports" Nigel Farage as the party's national leader.
Election campaign chief Patrick O'Flynn said Mr Farage was a "snarling, thin-skinned, aggressive" man who risked turning UKIP into a "personality cult".
Euro MP Mr Gill said he had phone calls from UKIP supporters "in tears" when Mr Farage said he was standing down after failing to be elected as an MP.
UKIP has rejected his resignation but a source said he may face re-election.
Mr Farage's resignation and re-instatement has prompted a row within UKIP over his performance and future as leader.
The party attracted nearly 4 million votes in last Thursday's general election but returned only one MP, Douglas Carswell, who won the Clacton seat.
'Dirty linen'
Mr Gill told BBC Wales on Thursday the fact Mr Farage was going to remain as UKIP leader was "great news which the membership fully support".
He said Mr Farage's "strong leadership" would be of great benefit to UKIP at the 2016 assembly elections, when he hoped the party would see its first AMs elected.
Mr Gill said Mr O'Flynn should not have publicly criticised the party's leader.
"In politics, you do not wash your dirty linen in public", he added.