Conwy councillors launch campaign against merger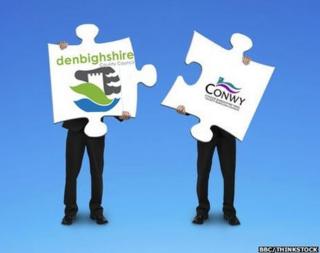 A campaign has been launched by councillors in Conwy to stop a merger under local government reorganisation.
Members of the council's cabinet feared joining up with another authority would threaten services and increase costs.
Conwy had previously agreed to explore the possibility of linking up with Denbighshire, as recommended in the Williams report.
The Welsh government said the case for fewer local authorities in Wales was "compelling and widely accepted".
But Public Services Minister Leighton Andrews has already rejected a series of voluntary mergers proposed by councils saying he wanted to see more "fundamental reform" of the way they worked.
Independent councillor Anne McCaffrey, Conwy's cabinet member for communication, said "radical and uncosted change" was being proposed.
"There is no business case for change, no costs assessment of the risk, and no idea what the council tax implications are," she added.
'Reform and reshape'
The Williams report in January 2014 proposed reducing 22 councils to between 10 and 12, but Mr Andrews later said the target could be as few as six councils.
On Friday, a Welsh government spokesman said: "The case for fewer local authorities in Wales is compelling and widely accepted.
"We cannot afford to miss this opportunity to reform and reshape our councils to drive funding into improving frontline services."
A proposed map has been promised by the summer, followed by a draft bill for consultation in the autumn.