Plaid's parliamentary leader named as Jonathan Edwards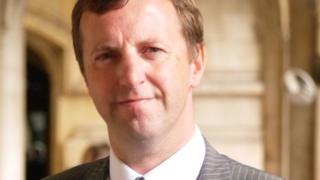 The leader of Plaid Cymru's parliamentary group has been named as Jonathan Edwards.
The MP for Carmarthen East and Dinefwr will take over the role from former MP Elfyn Llwyd, who retired in March after 23 years in parliament.
Mr Edwards called the appointment a "great privilege".
He said the party pledged to address the Human Rights Act, a referendum on European membership and more law-making powers in Wales.