Alternative to Labour needed in assembly poll, says Bourne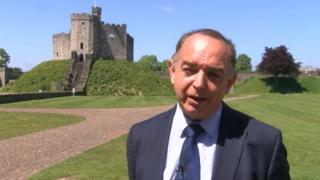 It is important there is an alternative to a Welsh Labour government in next May's assembly election, new Wales Office Minister Lord Bourne has said.
The former Welsh Conservative leader said a "rainbow coalition" of the other parties was a possibility in 2016.
Lord Bourne was appointed to the Wales Office after the general election.
He said he hoped to have a "warm" relationship with Welsh Labour ministers and that he counted some of them as friends.
Lord Bourne, who works alongside fellow junior minister Alun Cairns under Welsh Secretary Stephen Crabb, said his priorities included ensuring good cooperation between the UK and Welsh governments, promoting the Welsh economy an improving links between north and south Wales.
As Conservative leader in Cardiff Bay in 2007, Nick Bourne was involved in discussions to establish a government with Plaid Cymru and the Liberal Democrats, though a Labour-Plaid Cymru administration was eventually established.
He said "an alternative for Wales" was important.
"It's been Labour in the lead or Labour on their own in the national assembly since day one," Lord Bourne said.
"That's not a desirable state of affairs in any country, that it's a single party - I'd say that if it was the Conservatives".
"We've got to work on a viable alternative to keep people on their toes and the people of Wales will be the beneficiaries, of that I believe."