Kirsty Williams 'has done better than predecessors'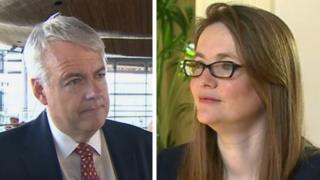 Kirsty Williams has "done a lot better" than her predecessors by gaining the Welsh Government's education portfolio, a former special advisor has said.
On Thursday it was confirmed the only remaining Liberal Democrat assembly member had been asked to join Carwyn Jones's new cabinet.
Ms Williams's appointment was ratified by Welsh Lib Dem members at a special conference on Saturday.
She said it marked the start of a "new style of government" in Wales.
In the 2000 coalition, Lib Dems held economic development and culture posts.
Councillor Paul Griffiths, who worked for Labour former first minister Rhodri Morgan between 2000 and 2007 and oversaw two coalition deals, said Mr Morgan had been able to give previous partners "portfolios which sounded grand but were not of huge influence".
Under a similar deal in 2007, Plaid Cymru secured the economy and transport, heritage and rural affairs briefs.
On both occasions the junior partner's leader was also named deputy first minister.
'Excellent'
Speaking to the BBC's Sunday Politics Wales programme, Mr Griffiths said: "What Kirsty Williams has got is, second to health, possibly the biggest spending portfolio with one of the biggest sets of challenges in Welsh government.
"If she stuck out for that I think she's done a lot better than some of her predecessors."
It is understood Ms Williams was initially offered a rural affairs role before accepting education.
Commenting on First Minister Carwyn Jones' decision to invite Ms Williams to be part of his minority government, Mr Griffiths said: "You need some assurance around that you can take government forward, that you're not bending to the events day by day and it gives him a measure of assurance.
"I suppose there was nowhere else for Kirsty to go in the sense if she didn't take this opportunity, how could she have any platform for rebuilding her party in Wales or elsewhere."
Mr Jones told BBC Radio Wales' Sunday Supplement programme that Ms Williams was an "excellent" assembly member.
He said: "There is a huge amount of common ground between the progressive parties in the assembly and it's hugely important that we work together.
"There is no point of being tribal for tribalism sake."
Kirsty Williams told the programme "there are going to be difficulties ahead" and that as a minority Labour government it would need to "continue to reach out to other progressive parties".
She said: "I think we are entering into a new style of government here in Wales, one where the traditional one party drives through its manifesto without any reference to other voices in that parliamentary chamber... we've moved away from that this week."