Corbyn a narcissist, says Labour Islwyn MP Chris Evans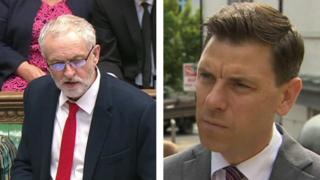 A Welsh Labour MP has accused his leader of "egotism, arrogance and narcissism."
Chris Evans said Jeremy Corbyn did not look like a prime minister but a "rabble-rouser", and called for him to do the "honourable thing" and resign.
But one supporter said Mr Evans' comments were applicable to MPs "plotting" against the party leader.
His comments came before Mr Corbyn lost a no confidence vote of MPs, 172-40 vote, which is not binding.
On Tuesday evening, Cardiff West MP Kevin Brennan, who was the shadow business, innovation and skills minister, resigned from the Labour front bench.
In a letter to Mr Corbyn, he said: "I have always believed that it is my duty in any contest to support the person I genuinely believe would make the best leader of the party with the potential to be elected as a future Labour prime minister.
"Despite your many admirable qualities as a campaigner on often unpopular causes, I would not feel able to nominate or support you for leader.
Mr Corbyn said the ballot had "no constitutional legitimacy" and said he would not "betray" the members who voted for him by resigning.
Earlier Welsh Remain campaigners claimed Mr Corbyn had been completely disinterested in the pro-EU push.
Mr Evans, Labour MP for Islwyn, rejected the idea that Mr Corbyn brought with him a "kinder, gentler" type of politics.
He said: "The only politics I have seen in the last nine months is an increase in abuse, threats to my fellow MPs."
He said: "I've heard of female MPs who are afraid to talk to their party chairman because they're so visceral towards them, of being afraid to go to meetings, afraid to go to public meetings because of this Momentum group."
He said he hoped a candidate would emerge to challenge the current leader.
"For all those people suffering from welfare cuts and Tory policies they will have no one speaking up for them because of the self-indulgence, egotism, arrogance and narcissism of one man - that man is Jeremy Corbyn - he needs to resign."
But Darren Williams, secretary of the left-leaning Welsh Labour Grassroots movement, said: "These comments from Chris Evans are applicable to the MPs who have been plotting against Jeremy Corbyn.
"Their egotistical actions have divided the party completely unnecessarily at a time when we should taking the fight to the Tories.
"There is absolutely no need to be doing this. Jeremy Corbyn was elected with a huge mandate form the party membership and we should be uniting behind him."