MPs debate devolution details as Tories choose leader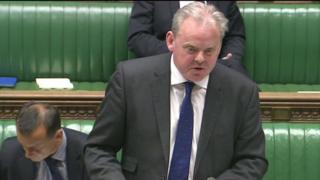 You wait 26 years for one Paul Flynn front bench appearance and then two come along at once.
The Newport West MP has been marking his recent appointment as shadow Welsh secretary by leading for the opposition during the committee stage of the Wales Bill.
He told the Commons that his predecessor Nia Griffith, who resigned in protest at Jeremy Corbyn's leadership, and her former deputy Susan Elan Jones are only on "temporary respite" from the shadow cabinet.
He said: "Can I say what a delight it is for me to be in this position as a spokesman, a shadow spokesman on the front bench.
"It's an extraordinary thing that these jobs are rather like London buses: You wait 26 years for one and then two come along together."
'Zero hours'
Swansea East MP Carolyn Harris, one of the MPs said to have turned down the shadow Welsh secretary's job, has emerged as Mr Flynn's deputy.
He admitted that his new job, which he combines with shadow leader of the Commons, is "not the best job I have ever had".
He added: "It's a zero contract job, zero pay job and zero hours job which could end at any moment."
But as long as Jeremy Corbyn hangs on as Labour leader, it appears Mr Flynn will continue in his new role(s).
The early debates on the Wales Bill followed predictable lines. Plaid Cymru proposed an amendment to create a separate Welsh jurisdiction, which was resisted by the government, abstained on by Labour and heavily defeated, swiftly prompting a Plaid Cymru press release criticising Labour MPs for not voting for an amendment scripted by the Labour-run Welsh Government.
Plaid Cymru MP Liz Saville Roberts said: "We deliberately took the Welsh Government's own suggested amendment word-for-word, to make it as easy as possible for the Labour party to support and still, they cannot bring themselves to support anything that empowers Wales to run its own affairs."
Paul Flynn said the question of legal jurisdiction was "fundamental" and must be addressed in the Bill.
'Out of date'
He said: "The joint jurisdiction was based on the premise that there's a common body of law across England and Wales with a single set of administrative arrangements. That premise worked for the centuries following the Acts of Union but is now out of date."
He said that premise was inconsistent with legislative devolution but Wales Office Minister Guto Bebb said there was no political consensus on the issue and that the England and Wales jurisdiction had served Wales very well.
But he said the function of the justice system should be kept under review, with a working group set up to look at possible changes to deal with the increasing divergence between English and Welsh law.
Mr Bebb has had a busy day. Earlier, he gave the government's response to a Plaid Cymru-led debate on Gwynfor Evans and Welsh politics.
In other news, Conservative MPs have been starting to choose a new prime minister.