Theresa May can bring country together - Andrew RT Davies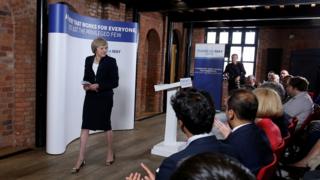 Welsh Tory leader Andrew RT Davies has called on Theresa May to "bring the country together" and "navigate Britain's successful exit" from the EU.
Mrs May is set to become prime minister after Andrea Leadsom pulled out of the Conservative leadership race.
Mr Davies, who backed Brexit, said the UK needed "strong leadership" and a "clear sense of direction".
Plaid Cymru leader Leanne Wood called for a general election as the process showed a "disregard for democracy".
David Cameron confirmed on Monday he would step down after Prime Minister's Questions on Wednesday, with Mrs May the only remaining candidate in the contest to succeed him.
He had announced his intention to resign in June, after leading the Remain camp to defeat in the referendum on Europe.
Mr Davies said he was "very much looking forward to working closely" with Mrs May, who has been home secretary for the past six years.
"Not only does she have a wealth of experience at the highest level of government, I believe that Theresa is best placed to unify the party and to continue delivering the commitments contained in our 2015 manifesto for government," he said.
"As a fellow one nation Conservative I very much share Theresa's passion for social justice and determination to build a country that serves the many, not just the privileged few. I wish her the greatest possible success in achieving that."
Mrs May was due to face Ms Leadsom in a ballot of Conservative party members after the initial five candidates were whittled down to a shortlist of two.
The winner had been due to be announced in September but, as the only remaining contender, the home secretary could now become prime minister within a matter of days.
"Today's announcement presents the new prime minister with an immediate opportunity to bring the country together and to navigate Britain's successful exit from the European Union," Mr Davies added.
"At this time, the country needs strong leadership and a clear sense of direction to reinforce confidence in the markets, and to ensure that the Government is best placed to steer the UK towards the bright future which awaits us.
"My group in the assembly will work shoulder to shoulder with Theresa May and other government colleagues to ensure that Wales shares in that bright future, and to provide a strong voice for Welsh communities at the heart of the government."
Ms Leadsom, a junior energy minister, was the last remaining supporter of the Leave side in the Tory leadership contest.
Mrs May had backed Remain but had not played a prominent role in the EU referendum campaign.
Clwyd West Conservative MP David Jones, who led the Vote Leave campaign in Wales, paid tribute via Twitter to a "Strong statement from the impressive Andrea Leadsom. She will go far."
He said the party must unite behind Mrs May.
First Minister Carwyn Jones congratulated Mrs May and said: "There are crucial areas where we must work together in the coming months - most particularly in relation to the ongoing steel crisis and in dealing with the fallout of Brexit.
"We also need to secure a decent Wales Bill, and a proper financial settlement for Wales."
However, Ms Wood called for an early general election, saying: "The expected appointment of the new Conservative leader as prime minister shows a disregard for democracy.
"It is a matter of principle that the most powerful political position in the UK should be elected to his or her role as a result of a fairly contested election.
"That is why I support an immediate UK-wide election to allow people to have their say as to who they believe is best placed to lead the UK through these testing, challenging times."