May Day: Welsh Tory MPs react to new prime minister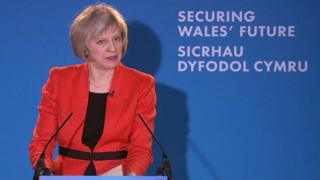 What do we know about the new prime minister and her likely approach to Wales?
She has spoken at several Welsh Conservative conferences both as home secretary and, in opposition, as the first female party chairman (as she styled herself).
These are occasions where the senior Westminster strays beyond their ministerial brief only to engage in political knockabout. See this report of her contribution to the 2015 Welsh Conservative conference in Cardiff.
As home secretary, she has occasionally had to deal with specifically Welsh issues, such as the problems with Welsh language ballot papers for the first police and crime commissioner elections.
'Formidable'
David Jones, who was the secretary of state for Wales at that time, wrote in support of her candidacy: "I have worked closely with Theresa in Cabinet, and have observed the formidable array of talents she possesses. She is cool, determined and intellectually impressive. She is an astonishingly hard worker with a meticulous eye for detail. At the same time, she is charming, courteous and never bombastic. She is an exceptional politician."
She would also have been involved in the negotiations over the future of devolution, and the UK government's response to the Silk commission. She defended her decision not to devolve policing to Wales.
'Shy person'
So what is she like? Gower MP Byron Davies, a former policeman, says he has got to know her quite well since his election last year. He told me: "Theresa May is, I would say, almost a shy person at times. She's not somebody, as she's admitted herself, who will actually meet in a bar or go out to dinner continually with fellow MPs, keeps her own sort of company and I respect that. To speak to on a one-to-one basis, she's very helpful and quite easy to speak to."
As party chairman, she spent a lot of time campaigning away from Westminster. Montgomeryshire MP Glyn Davies wrote on his blog: "She has been to Montgomeryshire a fair few times.
"Came to Dyffryn Farm, Meifod a few weeks back, home of Jonathon Wilkinson to meet farming representatives. First time I met her was in 1997, when she came door knocking with me around Argae Hall and the Revel. Caught the eye of Dai Pryce in very short skirt and open top BMW Sportscar. (Theresa not Dai). We had lunch in the Talbot. Great experience and very safe hands."
Glyn Davies is keen to see who Mrs May appoints to implement Brexit, to the Treasury and the Department for Energy and Climate Change. Fellow Welsh MPs Stephen Crabb and Alun Cairns will also be keen to discover if they are to remain in the jobs to which they were appointed in March.