Nathan Gill to be UKIP leadership running-mate to Steven Woolfe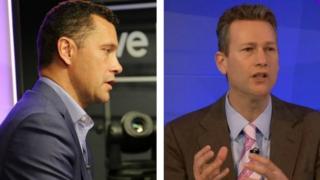 The head of UKIP in Wales is to stand as Steven Woolfe's running mate in the English MEP's bid for the UKIP leadership, BBC Wales has been told.
Sources said Nathan Gill, UKIP Wales leader, an MEP and an AM, is to run as deputy to Mr Woolfe.
The UKIP MEP for the North West is tipped as a front-runner in the contest, triggered after Nigel Farage resigned.
Mr Woolfe's campaign was announced on Thursday morning.
Nathan Gill has remained UKIP Wales leader despite Neil Hamilton, UKIP AM for Mid and West Wales and a former Conservative MP, defeating him to become leader of the party's assembly group.
Writing for the Huffington Post, Mr Gill said: "We need somebody true to our membership and the people who have worked hard to make UKIP what it is today; to honour those who have given countless hours to our cause to ensure that they continue this incredible journey with us.
"With years of experience and loyalty to his name, I know that Steven is the right successor."
'Voice'
Mr Woolfe, a 48-year-old barrister, is one of the party's most high-profile spokesmen and currently holds its immigration and financial affairs brief.
In a speech in London, he made a pitch for Labour and Conservative votes: "To old Labour voters let down by their party, I say, UKIP will give you a voice.
"To the majority of Tory voters who voted Leave but have been lumbered with continuity Cameron under Theresa May, I say, UKIP will welcome you."
He said to the millions of Leave voters the party must say: "UKIP speaks for you. We are your new home."