Brexit brings Welsh Tory MP David Jones to Downing Street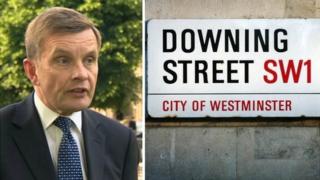 Clwyd West MP David Jones will work from Number Nine Downing Street as a minister in the new department to negotiate Britain's exit from the EU.
Mr Jones, a former Welsh secretary, led the Vote Leave campaign in Wales.
He tweeted on Monday: "First day at the new Department. A tremendous air of excitement and enthusiasm here. Everyone aware we're making history."
Theresa May told her first cabinet meeting on Tuesday that all ministers have a role in making Brexit a success.
But the new prime minister said she would not allow the UK to be defined by Brexit.
She said her government must seize "the global opportunities" offered by leaving the EU and that the benefits "must be shared by everyone in the country - and not just those at the top".