Jeremy Corbyn can win a general election, says Labour AM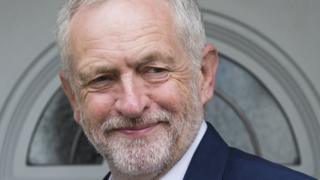 Labour leader Jeremy Corbyn could win a general election and become prime minister, a Labour AM has said.
Swansea East's Mike Hedges has reiterated his support for the Labour leader, saying Mr Corbyn has done "nothing wrong".
Mr Corbyn launched his campaign to remain Labour leader on Thursday.
He promised a "full and open selection process" to choose would be Labour MPs if new constituency boundaries are in place before 2020.
Mr Corbyn is being challenged by Pontypridd MP Owen Smith for the Labour leadership.
Mr Hedges said he thought Mr Corbyn could win a general election.
"I know Ed Miliband couldn't. I know Gordon Brown couldn't," he said.
"All those people now saying Jeremy Corbyn can't were enthusiastically supporting both Gordon Brown and Ed Miliband when it was apparent they were going to lose."
Mr Hedges said he did not think Mr Corbyn had "done anything wrong".
"The number of victories they've [Labour] had over the Conservative government in Westminster is something that has been a tremendous achievement.
"I think he's done a competent job and I don't see any reason why you would want to change at this short period of time."
Welsh Labour cabinet ministers have decided not to make any public statements on the leadership contest, a source at the government has said.
Mr Hedges said he believed ministers have decided not to comment "so we don't see Welsh ministers pointing in different directions".
Meanwhile Mr Corbyn has criticised his challenger for the "slightly odd" way he resigned from the shadow cabinet.
Mr Corbyn said the Pontypridd MP quit after telling him he was happy in his top team and wanted to stay.
The Labour leader, speaking at his campaign launch, also questioned Mr Smith's views on the NHS after his time spent working as a lobbyist for the pharmaceutical company Pfizer.
Asked if Mr Smith would be invited back into the shadow cabinet after the leadership election, Mr Corbyn said: "Owen Smith was in the shadow cabinet until two weeks ago.
"And he came to see me to say he was very happy in the shadow cabinet and wanted to stay there and left the meeting and resigned, which was a slightly odd thing to do.
"Of course he's very welcome to come back and I hope he would because that's got to be the right way of doing things."A campaign spokesperson said:
'Not be possible'
An Owen Smith campaign spokesman said: "Whilst still members of the Shadow Cabinet Owen Smith, Lisa Nandy, John Healey, Nia Griffith and Kate Green met with Jeremy to discuss the future of the party.
"They had hoped to leave that meeting with the confidence to continue to support the leadership in bringing the Labour Party together from within the shadow cabinet.
"During the course of the meeting it became apparent that this would not be possible.
"At the end of the meeting it was clear that Jeremy Corbyn would not and could not respond to their concerns with a concrete plan and commitment to unite the party.
"It was evident they were not happy with Jeremy's response and proposals. Immediately following this meeting they resigned."