Elis-Thomas complains about Plaid relations with Labour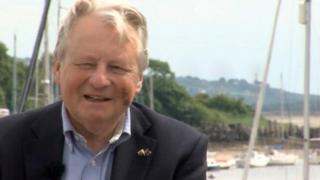 The former leader of Plaid Cymru has criticised his party for "deciding to lead the opposition" rather than working "positively with government".
In a series of tweets, Lord Elis-Thomas questioned why Plaid should "gang up with UKIP" in the assembly.
Current Plaid leader Leanne Wood did not seek a coalition with Labour after the May election but allowed Carwyn Jones to continue as first minister.
Plaid Cymru and Lord Elis-Thomas have been asked to comment.
The election left Labour short of a majority in the Senedd, and led to the drama of a deadlocked vote for first minister between Mr Jones and Ms Wood.
The Labour leader was re-appointed after a week of negotiations between the two parties resulted in agreement on a "compact" to allow joint working and consultation.
The Dwyfor Meirionnydd AM, who is on holiday in Spain, tweeted his comments on Tuesday after Plaid colleagues criticised the Welsh Government's decision to drop plans for a bid to host the 2026 Commonwealth Games.
Lord Elis-Thomas sent a message to Plaid's Shadow Economy Secretary Adam Price, questioning the party's "ambition" in its role as the official opposition to Labour in Cardiff Bay.
Mr Price replied: "Governance. Maybe you can come back with lessons from Menorca and the progressive alliance there between Mes, Podemos and PSIB."
Later, Lord Elis-Thomas tweeted: "Plaid decided to lead the opposition rather than work positively with government."
He described Plaid as the "'official opposition' of Welsh Conservatives & UKIP" and later asked "why should Plaid gang up with UKIP".
Lord Elis-Thomas also said: "An elected assembly has a constitutional duty to work for stable government", adding: "Doesn't Wales deserve a stable government now to negotiate its EU relations?"
The spat comes after the 11-member Plaid group decided at a meeting following the referendum vote for Brexit not to seek a coalition with Labour.
The decision came after Ms Wood said she was not ruling out such a deal following the victory for the Leave campaign.
Her comments on BBC Radio Wales sparked a debate among Plaid politicians with Bethan Jenkins, a South Wales West Plaid AM, questioning when AMs were consulted on the stance.
Ms Jenkins said on Wednesday: "I think it's perfectly fair for AMs to air their views in public, but we did air our views about going into coalition with Labour in a group meeting where I'm not sure Dafydd Elis-Thomas was present.
"We discussed a way forward in that group meeting which did not involve a coalition.
"I would suggest that if AMs want to explore this further we can do it in the new term or at a future Plaid Cymru conference.
On her opposition to coalition, she said: "We can be a strong main opposition party, we can show we can have unique policies that we can drive through now in this Assembly term.
"I don't see we would need to have a coalition to necessitate that."