Boris Johnson not trusted by Plaid Cymru to represent Wales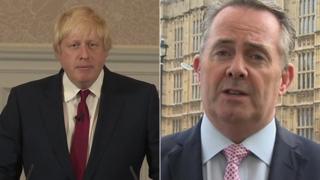 Wales should have its own foreign policy, Plaid Cymru has said, claiming UK Foreign Secretary Boris Johnson and Trade Secretary Liam Fox cannot be trusted to look after Welsh interests.
Plaid's external affairs spokesman Steffan Lewis AM called the pro-Brexit politicians a "double act of danger".
A diplomatic team answering to Welsh ministers should be created, he said.
Prime Minister Theresa May has said that the Welsh Government should be "engaged" in Brexit negotiations.
Downing Street is not responding to Mr Lewis's comments.
Mr Lewis claimed the UK's global reputation would be "damaged" under Mr Johnson, while Welsh trade would be "at the mercy" of International Trade Secretary Liam Fox.
Mr Lewis also called for a dedicated Welsh Government "ministry for international affairs".
Plaid Cymru has targeted the two Brexit-backing UK ministers despite a majority of Welsh voters supporting Leave - by 52.5% to 47.5% - in June's EU referendum.
Out of Wales' 22 councils, 17 backed Brexit while only five voted to Remain - despite Wales receiving billions of pounds of EU aid.
Mr Lewis said: "Wales being tied to this double act of danger poses real questions for us as a nation in terms of how we see ourselves in the world, and how we want to be seen by other countries.
"To mitigate the threats to Wales from the new team of isolationist hawks appointed to key international roles in Westminster, we need a dramatic change in Welsh foreign policy.
"We need a new infrastructure for Welsh foreign policy, backed by a new ministry for international affairs at Welsh government level."
Regional governments for Quebec in Canada and Flanders in Belgium already had significant global roles, Mr Lewis added.
'Strong successes'
A Welsh Government spokesman said it "actively pursues Wales' interests around the world", with First Minister Carwyn Jones taking the lead on international relations with support from other ministers.
"Trade and investment are at the heart of this effort," the spokesman said.
"We are supported by offices in USA, Ireland, Brussels, Dubai, India, China and Japan.
"We also work closely with the FCO [Foreign and Commonwealth Office]/ UKTI [UK Trade and Investment] around the world."
Welsh Conservative leader Andrew RT Davies said Mr Johnson would "continue to be a great friend to Wales" in the Foreign Office, and accused Plaid Cymru of seeing independence as the answer to every question.
"Theresa May has reassured the devolved administrations that they will have a significant role to play, particularly in the context of discussions over Brexit, and a relationship based on mutual trust and respect will serve both Wales and the UK well," Mr Davies added.