Fly-tipping tax 'could increase clean-up costs', WLGA says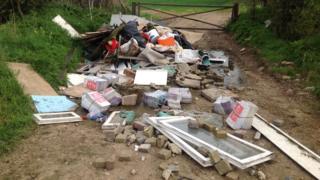 A tax on fly-tipping could lead to increased clean-up costs, the body which represents councils has said.
Plans for a new Welsh Landfill Disposals Tax in 2018 include a planned charge on fly-tipping.
The Welsh Local Government Association (WLGA) said the tax could encourage dumping of smaller amounts in more locations to avoid surveillance.
The Welsh Government said the tax was "intended to encourage people to dispose of their waste lawfully".
It expects the new Welsh Revenue Authority will focus on larger-scale dumping.
Fly-tippers can already be fined and prosecuted, but would also face a tax on what they dumped on top of the existing penalties.
'Public expectations'
In written evidence to the finance committee, scrutinising the Landfill Disposals Tax Bill, the WLGA said: "There is a risk that public expectations will be raised in relation to the impact the tax will have on fly-tipping.
"To have a deterrent effect there would need to be some high profile instances of offenders being identified and subjected to the tax.
"However, identification requires a commitment of resources to surveillance and examination of unauthorised disposals.
"Whilst this may be cost effective where large scale tipping is occurring, it is harder to justify for minor instances.
"This could encourage fly tippers to seek to minimise their risk of being subjected to the tax by depositing in small quantities but in multiple locations, putting additional pressures and clean-up costs on local authorities."
The WLGA added the threat of a tax may not have a major impact on behaviour as fly tipping is already a criminal activity punishable by fines and prison sentences.
A Welsh Government spokesman said: "The Welsh Revenue Authority will consider how this operates in practice and we expect it to consider how it will prioritise its resources.
"The WRA may seek to recover tax from fly-tipping, particularly where this is being done on a regular and persistent basis, but we anticipate its focus will be on larger illegal waste sites where significant tonnages of waste have been deposited illegally and tax evaded."