Politicians look back on 18 and a bit years of change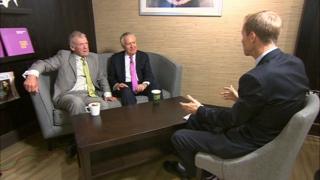 It's a big year for 20th anniversaries. In May it was 20 years since Tony Blair swept to power. And 20 years of continuous Labour rule in Wales.
And, as you may have noticed, it was 20 years ago this week that Wales voted, by a narrow margin, for devolution. The actual powers weren't transferred until July 1999 but no-one celebrates an "18 years and a bit" anniversary so it has offered a timely opportunity for the media to take stock.
Huw Edwards ends his documentary by concluding that the fragility of the original result has become "something far more solid". He adds: "The existence of a National Assembly, the Welsh Government, regardless of the debate about policy, is widely accepted. The very idea of devolution - once so divisive and controversial - is hardly questioned."
Scrutiny
And a lot of the coverage of the 20th anniversary has indeed been focused on what has been delivered and how Wales has changed since 1997 rather than testing the arguments - or the numbers - put forward during the referendum campaign.
Politicians (and statisticians) are still arguing over the claims, counter-claims and sums from last year's European referendum but there has been relatively little scrutiny of the arguments made during the 1997 vote.
The old Welsh Office white paper suggested the assembly's running costs would be £15m to £20m a year, paid for largely by a bonfire of the quangos. At the time, constitutional expert Robert Hazell suggested this was "creative accounting" and the true cost has been rather more - north of £50m at today's prices - even if AMs have had more to do than originally envisaged.
Among MPs, Brexiteer and devolution critic David Davies has compared the response of the losing sides in the two referendums and argued that the opponents of devolution quibbled over the 1997 result rather less than the 'remain' side did last year.
More enthusiastic
As part of our coverage of the 20th anniversary, I spoke to another Tory MP, Glyn Davies, who said he decided on the way home from the count to try to make devolution work. Both David Davies and Glyn Davies became AMs, although the latter has been far more enthusiastic about the assembly.
I spoke to Glyn Davies alongside Lord [Peter] Hain, who argued that such has been the shift in power from Westminster that as a young politician in Wales he would now seek his future in Cardiff rather than London.
It is an academic argument, in the sense that the Labour peer, who lives in his former constituency of Neath, began his political career in London - and it is hard to think of many "Londoners" who have moved to Wales to start a career in devolved politics.
Indeed, one of the features of the assembly has been how AMs have almost entirely been recruited within Wales whereas there is a long history of would-be MPs moving to Wales to embark on a Westminster career.
There are two sides to this argument. Although local candidates are often preferred for their local knowledge and attachment to a constituency, few would argue that Wales' line-up at Westminster has not been enhanced by the quality of MPs from outside - from Michael Foot via Jim Callaghan to Lord Hain himself.
The week's coverage of the 20th anniversary is almost over. But if your appetite remains, stand by for the next 20th anniversary in July 2019.