Lord Elis-Thomas swore in Senedd, says Plaid Cymru AM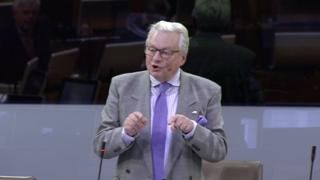 Plaid Cymru has accused former leader Lord Elis-Thomas of swearing at his former colleagues during a heated debate in the Welsh Assembly.
AMs from other parties said they heard the comment during Wednesday's debate on a proposed prison in Port Talbot.
Presiding Officer Elin Jones has been asked to rule whether he used "appropriate parliamentary language".
Lord Elis-Thomas has been asked to comment on claims he called Plaid Cymru AMs a "bunch of right wing shits".
In an email to the presiding officer, Plaid Cymru AM Adam Price said: "Yesterday, during the debate on the Port Talbot prison, I clearly heard Dafydd Elis-Thomas pointing from his seat at the Plaid Cymru benches and shouting 'that bunch of right-wing shits'.
"[Welsh Conservative leader] Andrew RT Davies was sitting in front of Dafydd Elis-Thomas at the time, and he has confirmed to me that he heard the comment by the member.
"I would like your judgment as to whether this comment is appropriate parliamentary language, and if not, which appropriate steps will be taken," the email said.
'Internal spat'
In October 2016 Lord Elis-Thomas, a former leader of Plaid Cymru and the assembly's first presiding officer, quit the party to become an independent AM, saying he was putting Wales ahead of his party.
The Dwyfor Meirionydd AM had previously been disciplined by Plaid leader Leanne Wood for criticising party policy.
A spokeswoman for the presiding officer confirmed that she had received the complaint.
Meanwhile, Mr Davies said: "I am incredibly disappointed that Adam Price has chosen to associate my name with what is essentially an internal spat between the Plaid Cymru Group and its former leader.
"Adam Price's unwarranted use of my name in respect of this event is the height of bad protocol, and something from which I wish to disassociate myself entirely.
"With an internal war still raging within the Plaid Cymru group, I would appreciate it if I could be left out of any future spats they choose to embroil themselves in."