Powys adult services head wants to quit, BBC Wales understands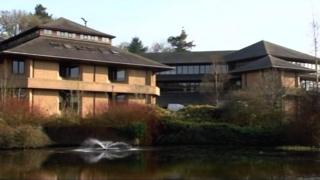 A leading official at Powys's troubled social services department has told the council she wants to stand down, BBC Wales has learned.
A senior councillor said discussions were taking place after Louise Barry "expressed her intention" to stand down as head of adult services.
It comes as Powys tries to turn around social services after a damning report found failings in children's services.
The council said it could not comment on individual employment contracts.
Powys has been warned its social services will be taken over by the Welsh Government if the department does not improve sufficiently by the end of the year.
Ministers threatened to intervene last week after the Care and Social Services Inspectorate Wales (CSSIW) criticised its children's services.
An inspection carried out in July concluded that vulnerable children in the county were at risk.
CSSIW will return to Powys to examine adult services soon, but a date for the inspection has not been announced.
A well-placed source in local government said: "The whole department is in turmoil."
Losing the official in charge would create another vacancy at a crucial time.
The director of social services and head of children's services are both being filled by interim appointments.
The previous head of children's services, Carolann James, left in July after 11 months in the job.
The authority's chief executive, Jeremy Patterson, is also away from his post, having gone off sick last week.
'Premature'
Stephen Hayes, the councillor responsible for adult social care, said he was told about Ms Barry's decision on Tuesday.
"I can't confirm the finalised position," he said.
"She has expressed her intention to do so [leave Powys].
"But there's further discussion going on with her. It would be premature to say she has resigned at this point."
Mr Hayes described Ms Barry as "very professional and very competent", and he was "very keen she should stay with us if at all possible".
Powys council declined to comment, but a spokesman said there was a standard notice period of three months for heads of service.
He said an "exit interview" would be carried out as part of the process "to find out why they wanted to leave".